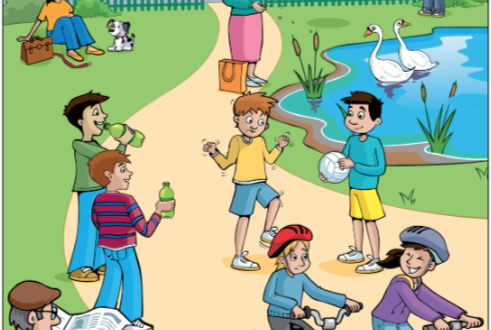 Fun ideas for Listening Part 1 for Pre-A1 Starters, A1 Movers & A2 Flyers
This is a quick post with some ideas to use with Part 1 Listening in Pre-A1 Starters, A1 Movers and A2 Flyers. I've written previous posts on this part which you might also find useful (see below, at the end of this post).
For this post, I've chosen the task from A2 Flyers Listening Part 1, Sample Paper Volume 1, available here: https://www.cambridgeenglish.org/
Am I an answer or a distractor?
Students choose one of the people in the picture and listen for any information about that person.
They listen and decide:
Are they a key (correct answer) or a distractor?
Distractors = other girl on bike, woman feeding the birds, boy drinking lemonade, boy holding ball
This reinforces the fact that ALL THE PEOPLE IN THE PICTURE ARE MENTIONED OR REFERRED TO IN SOME WAY
Listen and number
The names
Students listen and number the names in the order they are mentioned.
or/and
Students number the people in the picture in the order they are described.
Tip: If each half of the class does one task (group A – names, group B – numbers), then they can get together and compare.
Which details aren't heard?
William – we hear that he's reading a newspaper and is wearing a nice hat, but what other things describe William?
He's wearing glasses
He's sitting on a green bench
If you liked these suggestions, then check out my other posts on Listening Part 1:
How to do well in Pre-A1 Starters Listening Part 1
About Pre-A1 Starters Listening Part 1
About A2 Flyers Listening Part 1