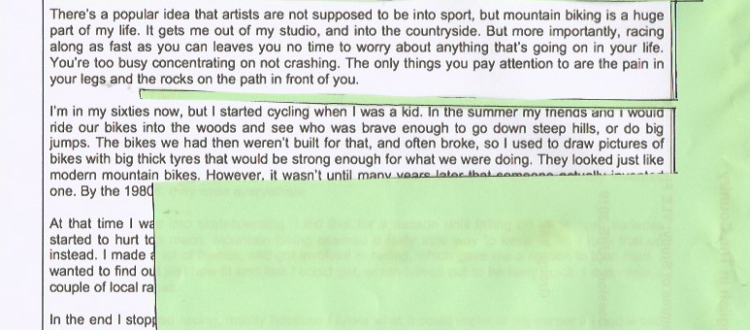 Today, let's look again at Reading.  I've written quite a few posts on this subject recently and shared some activities and tips.  The Reading choiceboard with ideas for primary students, for example.
 Reading is loved by many and dreaded (and perhaps rejected) by many too.
But reading is so important!  Many people argue that good writers are very often prolific readers.
---
Many teachers complain that their students today never read.  But is this complaint actually true?   
After all, digital natives are constantly to be seen looking at a screen, reading and answering messages and responding to social media content.
---
Or is it that our students are reading different things, differently?
I've read that the way we read webpages is called F-reading.  What exactly is that?
When you 'F-read', you might read start of the text, perhaps the first paragraph, then scan the start of the following lines to see if you want to read the text in full, or move on to something else.
It seems to be a pretty sensible approach to reading in real life in my opinion.
---
But when reading texts in exams, students can't read in this way.  They don't have a choice in what to read. They have to read the text on the exam paper.
---
Inevitably, some texts will be more difficult for our students to understand.  Reasons for this include  not knowing very much about the subject, or lots of the lexis might be new.  The text might contain lots of long, complex sentences. 
And the fact that in the Cambridge exams, some questions are deliberately included to enable certification at the previous level and at the next level, means that the more difficult questions will inevitably be more difficult to answer.   A candidate taking B1 Preliminary will face questions from that level, as well as easier questions at A2 level and more difficult questions pitched at B2 level.
Tip:  Talk about this with your students.  Tell them that this is the case!
---
To share some ideas for taking the anxiety of working with exam texts, and for doing further work on texts, I've prepared a board with some suggestions.  Below is an image of the board.  (Click on the link below to download the pdf document.)
Link to Exam Texts Activities Board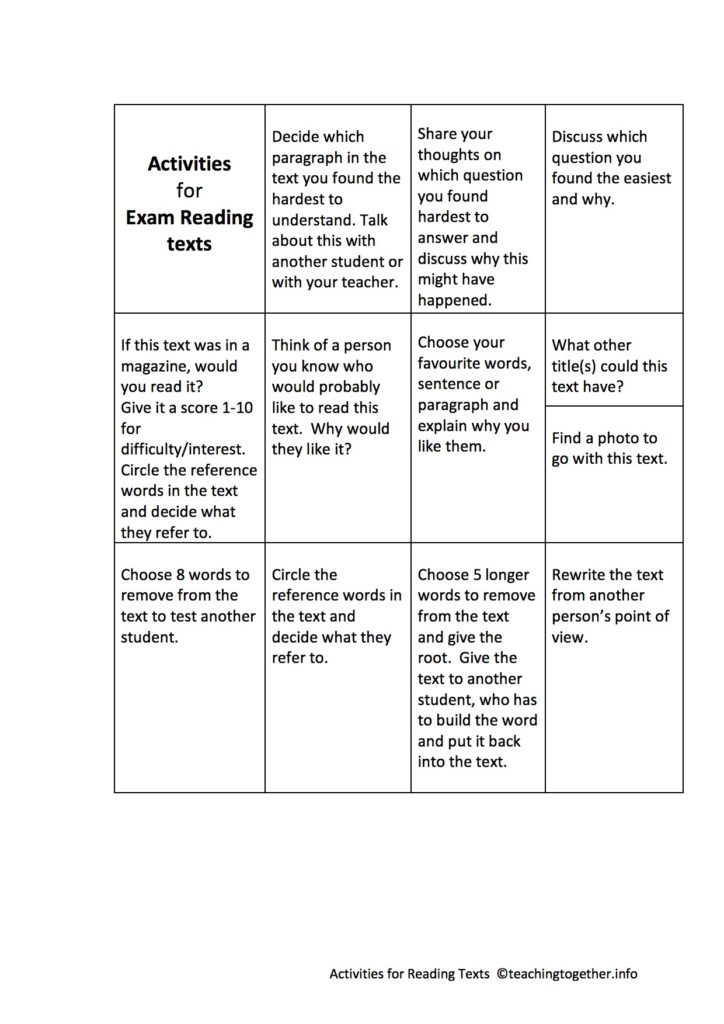 And for some more advice on doing things during and after reading (and also on which reading materials to choose), watch this short, fun video from Learn English with Cambridge:
There are some interesting thoughts and tips here:
Reading in another language is clever!
Interact with the content!
Respond to the text – Using interesting words – like gripping, thought-provoking adjectives!