Flyers Writing Booklet – Making sentences longer
In my third post on the Flyers Writing Booklet, I'm going to share ideas for Making sentences longer.
This focus, on making sentences more interesting, follows on from Words to describe pictures and Completing sentences.  I focused on these two in my previous two posts.
---
In the Booklet, we start with a picture of two women in an office.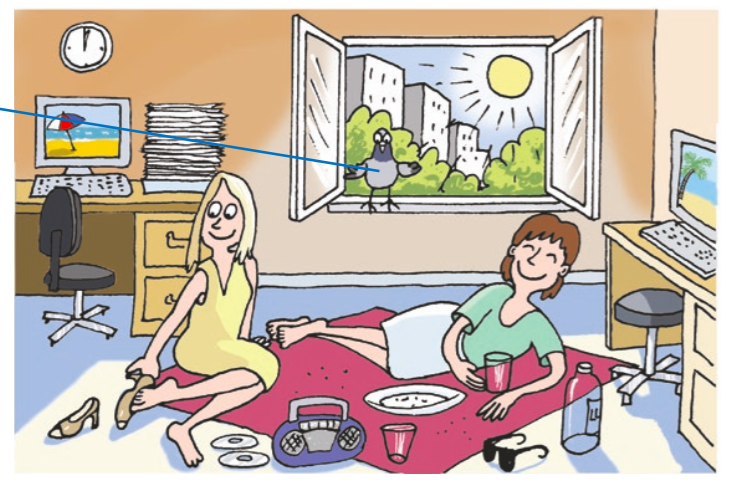 (This is one of my favourite pictures from the Fun for books. I love the expression on Lucy's face and the way that they are doing something unusual in an office – having a picnic!)
Pre-task work
Before doing the writing skills activities. I'd work on the lexis for this picture, as there is a lot in it!
Ask them to try and find something that starts with each letter of the alphabet!
Here are my suggestions:
arms, bird, CD player, desk, elbows, floor, glasses, hands, image, juice, keyboard, legs, music, neck, office, papers, rug, screen, trees, umbrella, view, window, yellow, zip* I'm imagining that the yellow dress has a zip!
I got stuck for 'q', so I chose an adjective: quiet
I couldn't really see an x-ray here, so that letter is not covered!
---
The first task on this page is to draw lines between five short sentences and the people or things they describe in the picture.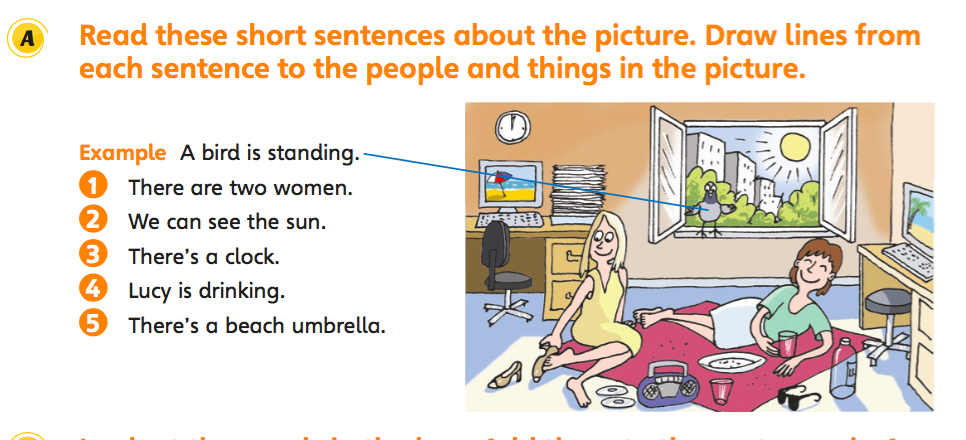 Next, in B, they have to make longer sentences by adding two things to each of the short sentences.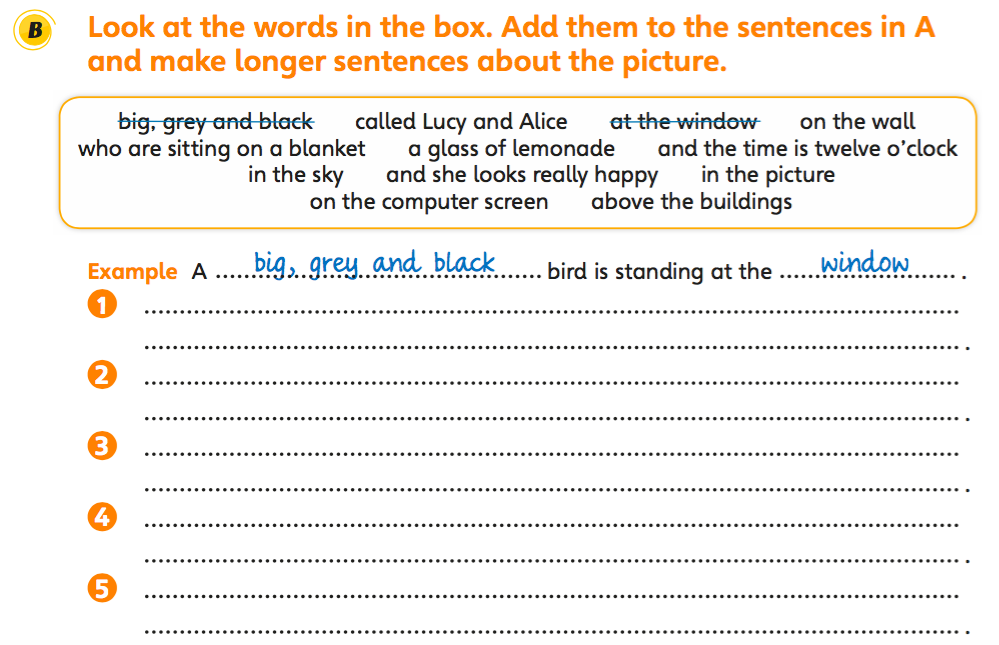 So, we end up with these sentences:
1 There are two women called Lucy and Alice who are sitting on a blanket.
2 We can see the sun in the sky above the buildings.
3 There's a clock on the wall and the time is twelve o'clock.
4 Lucy is drinking a glass of lemonade and she looks really happy.
5 There's a beach umbrella in the picture on the computer screen.
Extensions
1 Ask learners to write one more sentence. (About Alice, the bottle, or the plate for example). They can write about what Alice is doing, where the things are and include adjectives and colours.
Suggestions:
Alice is taking off her shoes and looks really pleased.
The lemonade bottle is on the office floor and it's empty.
There's a round white plate on the blanket between women.
2 Ask learners to imagine more details.
What did Alice and Lucy do before this picnic?
What are they going to do next?
Where is this office? In a tall building? Do other people work there too?
Who sits at each desk?
3 Ask learners about their things and opinions.
What's the view from your bedroom window?
What's your favourite view?
What's on your computer screen?
What would you like to see on your computer screen?
3 Design a picnic!
Where will you have your picnic?
Where will you sit? On a blanket / rug / towel? Round a table?
What will you drink?
What will you eat? Which snacks? What will you put inside the sandwiches? Will you have pizzas?
4 Ask learners to make an illustrated word for what they can see in the picture, or in their alphabetical list. Here are my view glasses!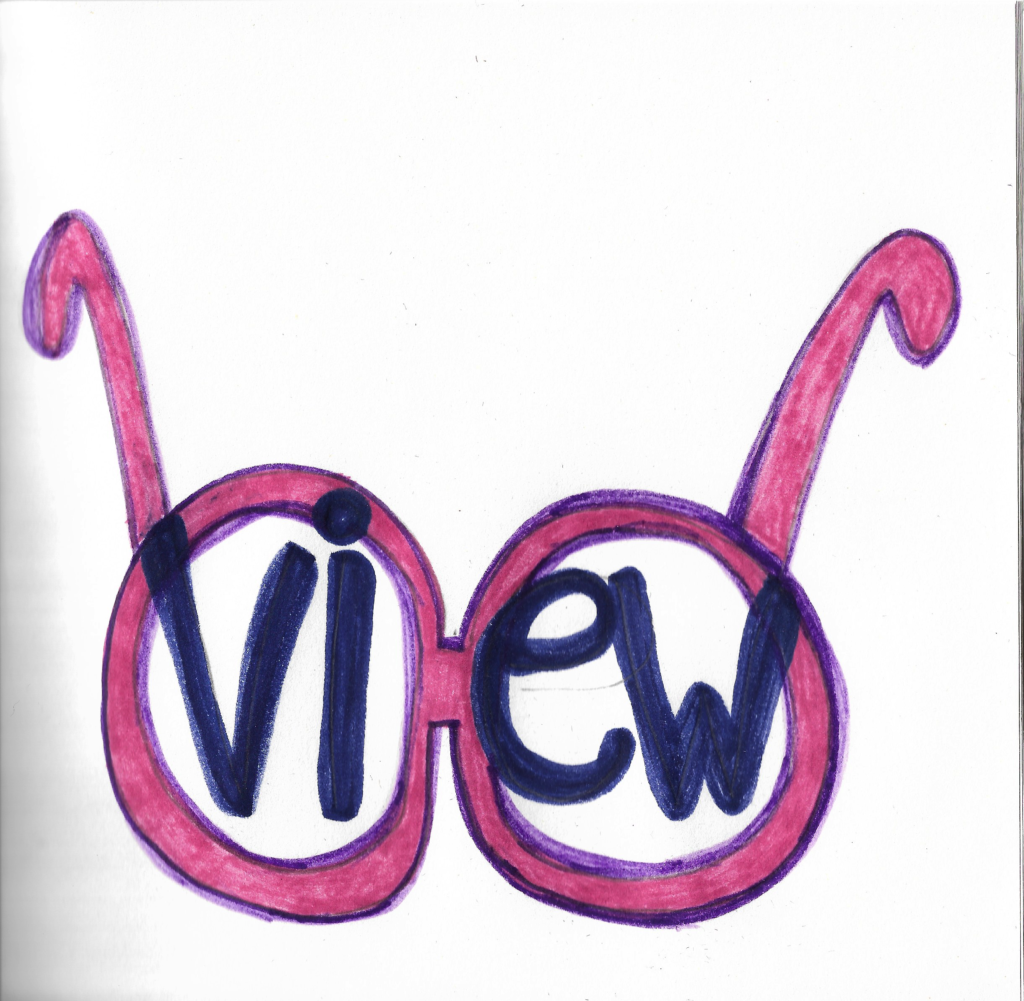 I hope these suggestions will be useful. I'll be back tomorrow with my next post on the Flyers Writing Skills Booklet.