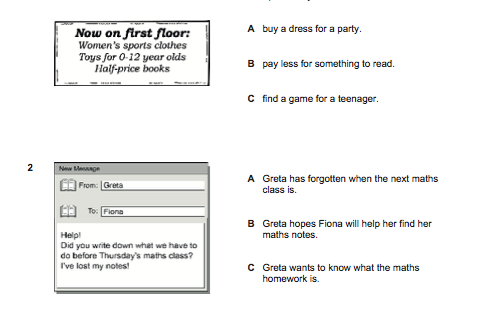 About 2020 A2 Key Reading and Writing Part 1 – and how to do well
From 2020, Part 1 of the A2 Key and A2 Key for Schools Reading and Writing Paper will change.
Let's first examine the format of this Part.
I'm going to use Part 1 from the A2 Key for Schools Handbook, available here:  https://www.cambridgeenglish.org/images/515230-a2-key-for-schools-handbook-2020.zip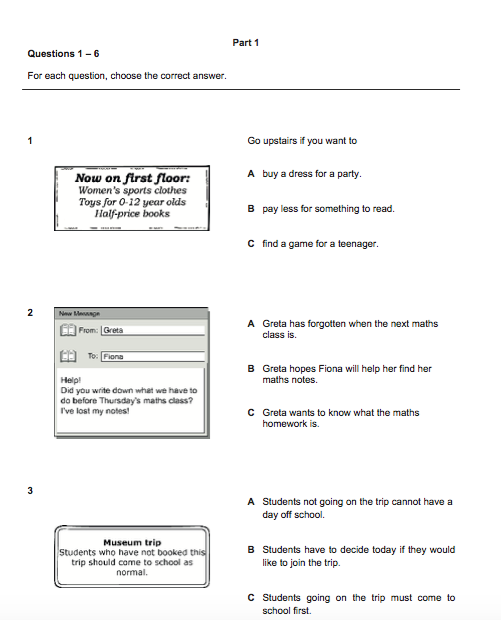 Above, you can see three sample questions for this Part.
About this Part
In the exam, candidates will see five signs, notices, notices or messages and have to choose which sentence* (A, B or C) matches the meaning.
Some of the sets of options will be full sentences (e.g. Students not going on the trip cannot have a day off school.), whereas others will complete the sentence start above the A, B, C options.
Some of the questions will test understanding of paraphrasing of language in the sign/message.
         e.g.  1  Half-price books        B  Pay less for something to read
        Whereas others will test the general meaning of the message.
        e.g. 2  Did you write down what we have to do before Thursday's maths                       class?
               C  Greta wants to know what the maths homework is.
---
This Part of the exam does not usually cause students too many problems, although as with any Part, there will deliberately be easier and more difficult questions.
---
Tip:   Train students to look at the notices and signs and to think about where they might see them, to discuss typical layouts and formats for them. 
This will provide them with useful real-life skills and awareness.
---
Tip:  Focus on the kind of language used.
Signs tend to use concise language, omitting words like articles (e.g Now on first floor)
To work on the language, ask students to make full sentences from the shortened phrases.
(e.g.  You can now find women's sports clothes, toys for children aged 0-12 years' old and half-price books on the first floor.)
---
In my next post, I will share some fun ideas for working on this Part in class.  Back soon!