How to approach B1 Preliminary Reading Part 4
In this post, I'll share some tips for introducing students to B1 Preliminary Reading Part 4. 
This task will very probably be new to them – for several reasons. 
1 It's a new task, which was introduced in the 2020 revision to B1 Preliminary and B1 Preliminary for Schools.
2  It doesn't appear in A2 Key (*but it does appear in B2 First, so it's good to get them doing it at a lower level).
3  It's not a real-life reading task.  I real life, we don't usually have to reinsert sentences into a text!
---
Tip:  Whenever you introduce students to a new exam task, I try to do it gently.  If they're just starting in a level, the language will probably already be quite challenging for them.  And they haven't had practice – or training – in how to approach the task.
---
DON'T give students the exam task as it is. 
---
Let's do this with the sample task from the 2020 B1 Preliminary Handbook, available here.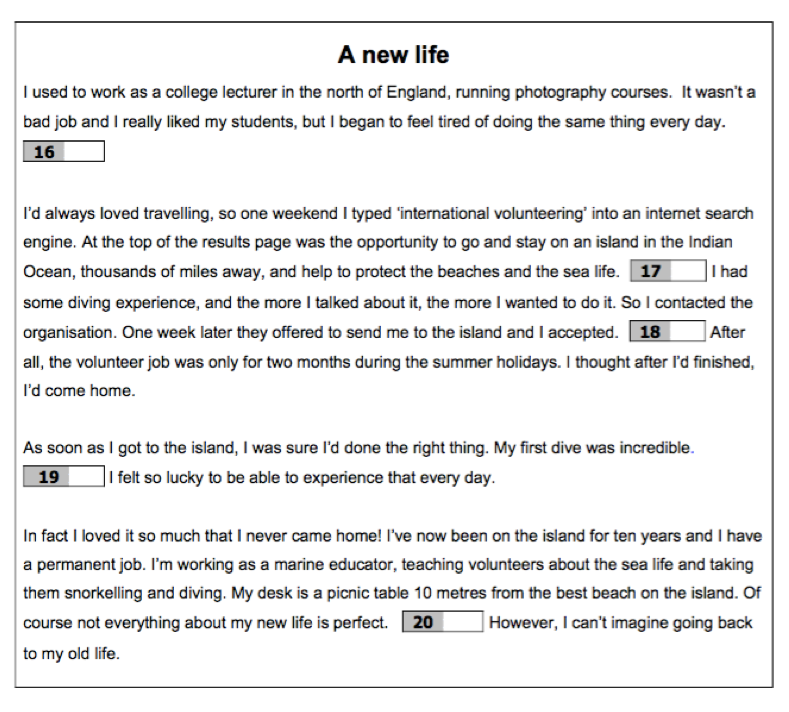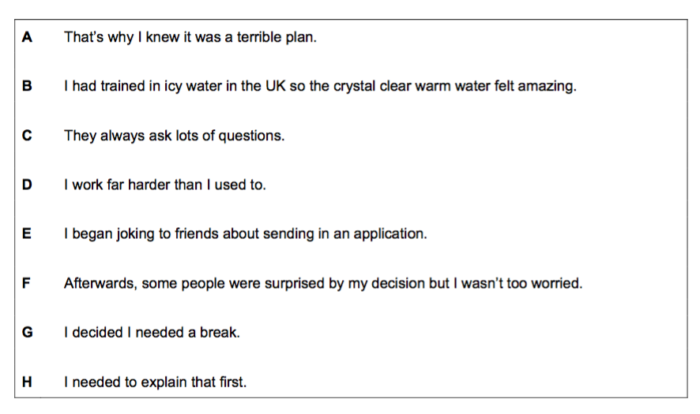 Tip: The first time you do this task, give students the complete text, with the five reinserted sentences in italics or a different colour.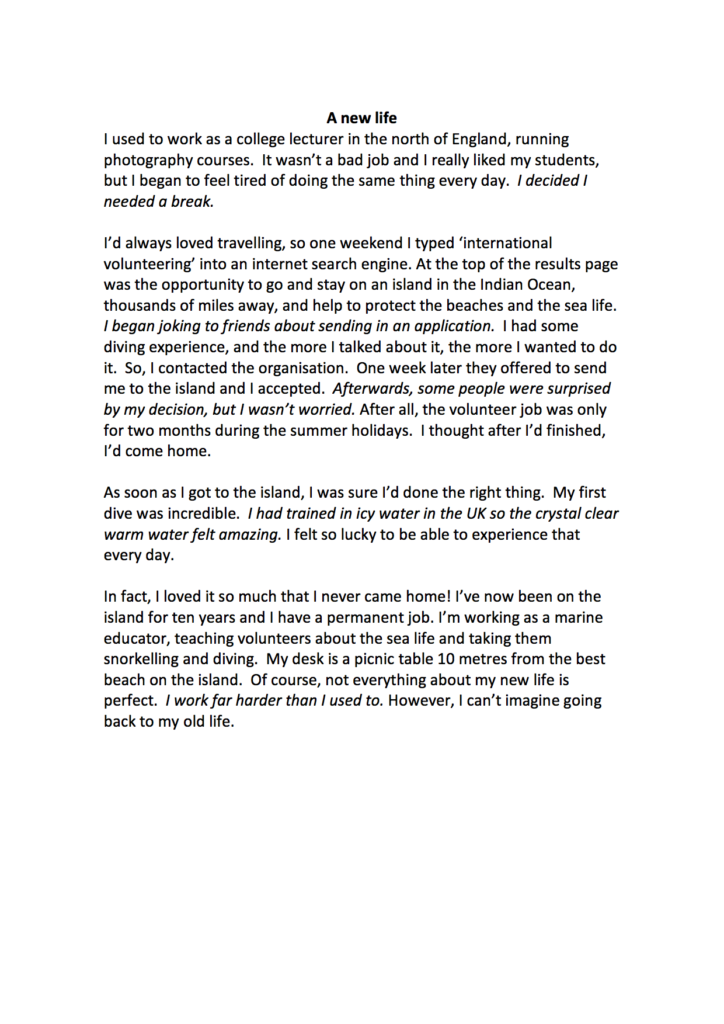 First, ask students to read the whole text. It's good to give them a reason for this – for example, read the title, then the text and see if the title refers to the whole text, or just part of it.
Then, get them to look at the five sentences and at the sentences before and after them and say why they 'fit'.
Suggested answers
I decided I needed a break. fits with the previous sentence because the writer was 'tired of doing the same thing every day'. He decided, and he took action – he went onto an internet search engine.
I began joking to friends about sending in an application. An application links to the 'opportunity to go and stay on an island' and joking to friends relates to 'the more I talked about it'
Afterwards, some people were surprised by my decision, but I wasn't worried. Afterwards and by my decision link to several sentences before – his decision to apply for the job, and to accept it. some people links to those friends he joked with.
I had trained in icy water in the UK so the crystal clear warm water felt amazing gives us more information as to why his first dive was incredible.
I work far harder than I used to. links to the previous sentence: 'Of course, not everything about my new life is perfect.', but also to the start of the text, where he told us about his job as a college lecturer.
Tip: Introduce any new exam tasks step by step. Show students the completed task and work backwards.