After reading Katherine Bilsborough's Five Things column in the TESOL Spain newsletter, I visited one of the websites she recommended and was impressed by what I found.
Viralelt takes a video that has gone viral on the internet and prepares it for use in class.  There are some discussion questions for students to talk about.  They listen to a person talking about one or more of those questions and they watch the video.
There is work on lexis (highlighted in the questions and in the tapescript).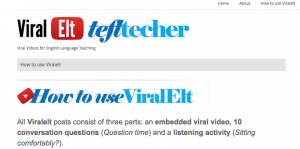 The material certainly looks very usable and motivating.
I checked out the post on Invisible people (homelessness).  I could certainly use this in class exactly as it is.