Songs that get stuck in your head
I said that this week's theme was listening, and I've been preparing some resources and activities to use in class.
This post is about music – irritating music mostly.  How many times do you hear a song on the radio or someone singing or humming a tune, then you find yourself 'hearing' that song for hours afterwards.  Or sometimes, we are not even aware of having heard a tune on the day that we are suddenly walking around with it in our head!
If I sing (or say) to you:  Happy birthday to …..   or More, much more than this. I did it my ……….  I bet you would either say or at least think of the words 'you' and 'way' and would probably hear the tunes in your head too!
There's a great video on Ted-Ed that talks about this situation.
http://ed.ted.com/lessons/earworms-those-songs-that-get-stuck-in-your-head-elizabeth-hellmuth-margulis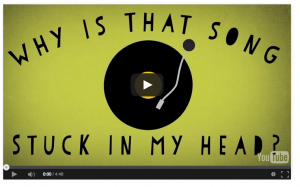 In class, you could show the video (or you could ask students to watch it at home).  It's very visual, and the images aid understanding, so even lower level students (B1) should be able to understand a fair amount.
Then, students could click on 'Think' answer the multiple choice questions (these are quite high level, so students would probably need to be at least B2 level here).
Next, Dig Deeper.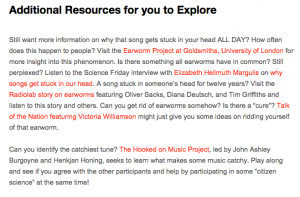 The Hooked on Music Project is great, believe me!   You hear a short stretch of a song and you click when you recognise it, then sing the next part.  Really fun to do!  I haven't tried the other links yet – I'll do that over the weekend!
You could then have a discussion in class about the question asked under 'Discuss':
Why do you think we tend to get songs stuck in our heads, rather than something else like tastes or images?
In training sessions I've given, I've suggested that we can help students discover and remember the meanings and collocations of words by using song titles.
Which word is missing from these titles? (same word in each title)
1   Love the …….. you lie.  Rihanna   Just the ……. you are.  Bruno Mars   Go your own …….. .  Fleetwood Mac  My ……. .  Frank Sinatra
2   ….. the one.    One Direction    I …… haven't found what I'm looking for.  U2   ………   ……… loving you.  Scorpions    I'm still waiting  Diana Ross
3   Feel the ………..   Jennifer Lopez    Christmas …………..s  Coldplay   Blinded by the ………… Bruce Springsteen   ………. my fire    The Doors
4  Blank  ………..  Taylor Swift     Advertising  …………  Robbie Williams    ………. oddity   David Bowie
5   Best ……. I never had   Beyoncé   I don't want to miss a ………   Aerosmith    That …… you do   The Wonders     Every little …….. she does is magic   The Police
Key:  1  way     2   still      3  light       4  space    5  thing