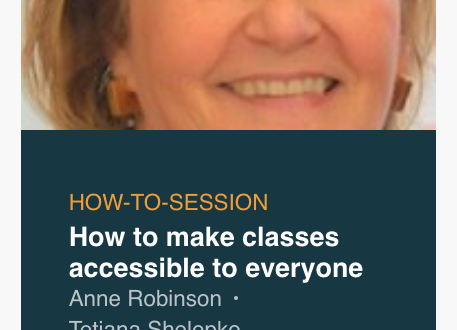 Making learning accessible to everyone – #smoothstarts
I have just finished giving a webinar on How to make learning accessible for everyone as part of the 2022 Cambridge Live event. It was an honour to be asked to deliver a session in this huge, worldwide event.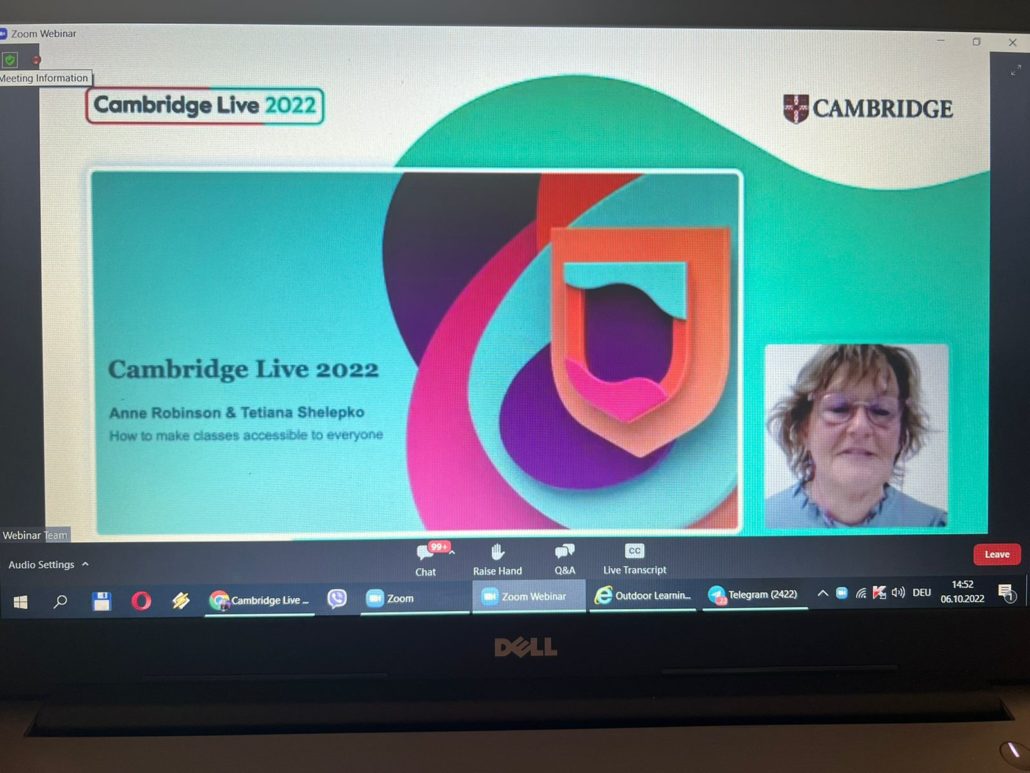 Although the title of our session might have led people to think that we were going to talk about students with special needs, that was not the focus. The ideas were meant to be relevant for all students, in different teaching situations.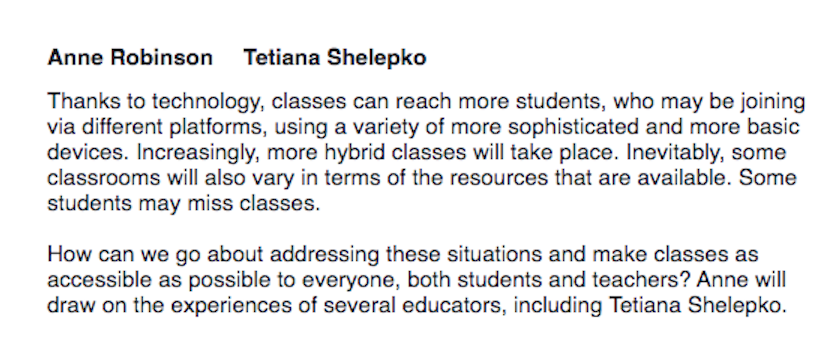 In part of the session, I talked about #smoothstarts, #expectations, #accessiblematerials, #checkingprogress and #catchingup.
I've created a Wakelet board with links to resources and articles on these five areas. It's available here.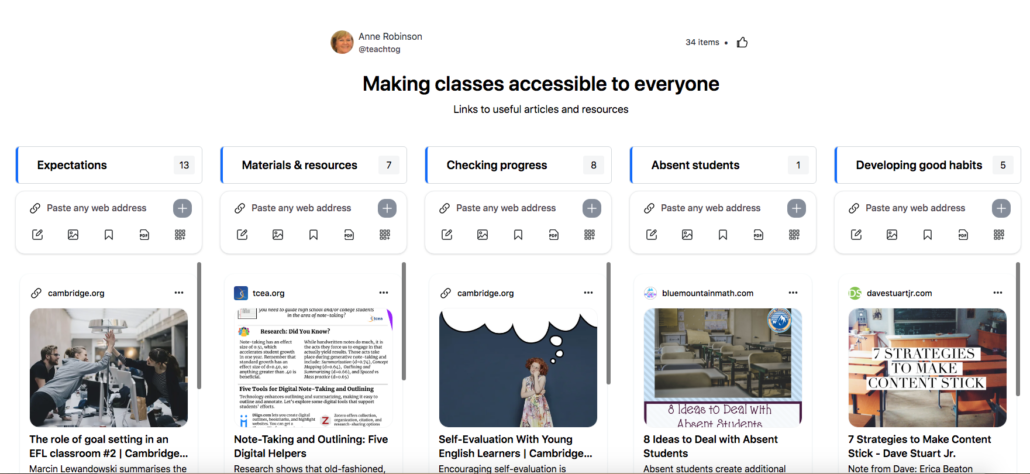 In this post, I'll write about the ideas and tips I shared regarding starting off with a new group, at the start of the year or course.
#smoothstarts
#smoothstartsFacetoFace
Students starting a new course, in a new group should, of course, already have the basic information about the classes:
how often the classes are
how long the classes last
where they will take place. Maybe you're always going to be in the same classroom, or perhaps you'll go to a computer room or language laboratory sometimes. If this is the case, tell your students.
Making sure that students know which Materials to bring to class is essential right from day 1.
Will they be using a coursebook?
Will you provide it? Where can they buy it?
Is it physical or digital?
What stationery ítems do they need to bring?
For me, training students how to organize themselves is essential – even with adult students! I like my students to have a diary – or a calendar. In Google Classroom, calendars for classes are really easy to create.
Students could also use a notebook. From the front, they write their notes and do their classwork and homework. From the back, they write their things to do, etc.
If they use a file, the file can obviously have sections for these things.
Another thing to explain to students is the outline of the course.
Will there be homework?
Are you going to do any projects? Go on visits?
Will there be tests or exams?
I've created this sheet, which can be used with young learners. They can stick it in their diary or notebook and show it to their parents.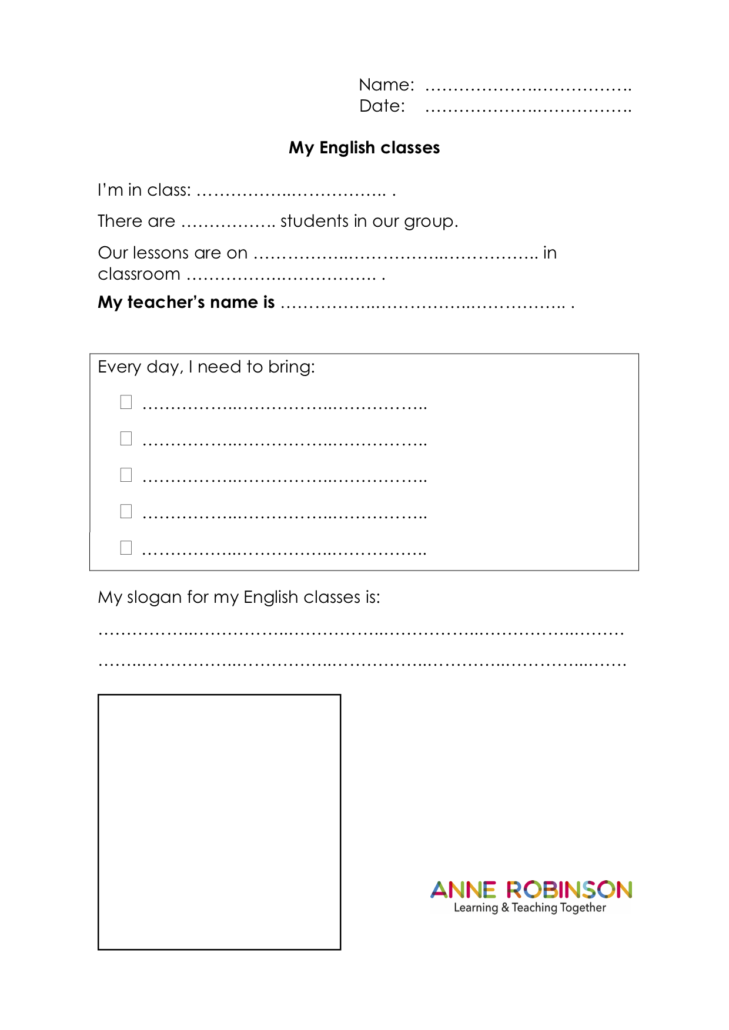 In Vinnytsia, Ukraine, Anna Duchenko invites parents into her classroom, explains how the classes work and allows time for questions.
"I usually invite parents to a meeting. In the classroom where we have lessons so that parents can see how everything is organised. Then I tell parents about our methods of teaching, trying to clear up misunderstandings. – Yes, we play a lot, but to learn, practise,and to make sure learners love English lessons!"
Explaining to parents that games are not a waste of time is very important!
Perhaps you haven't got the time, or parents can't come to a meeting. One solution might be to upload a video for parents to watch. You could include a demo class – perhaps a game and show how it's useful.
#smoothstartsOnline
Students studying online will 'bring' differences to the class from the moment they connect.
The platform
In one class that I've been teaching, some students were joining via Zoom and others via Telegram. This means that two links need to be created.
The devices
Some students might have the latest technology, huge screens, … Others may join using a mobile phone and may or may not be able to use a camera.
Familiarity with technology
In addition to the things we've talked about in relation to face to face classes, we need to make sure students are familiar with the technology we'll be using.
How to use the chatbox, what we expect them to do (and how to behave) in breakout rooms, etc.
Sometimes, we might tend to take for granted that students will be familiar and know how to use technology – but we shouldn't.
Communication
Another vital area for smooth classes and ensuring everyone's informed and on board is communication. It's important to have clear channels of communication so that no one is left out.
Gonça Bas in Turkey, like Anna in Ukraine, stresses the importance of communication with parents, of getting them on our team: "…… parents play a huge role in shaping how young people see themselves and raising expectations help pupils to be successful as well."
Perhaps sending a note or email to parents at the beginning of the year can help to ensure that learners come to class with the necessary things. And we can encourage parents to support their children by showing interest in what they've learned and done in class.

I don't know about you, but I know several adults who have learned English at the same time as their kids!
Well, that's the end of this first post about Making Learning Accessible.
If you'd like to watch the recording of the webinar, you can go to YouTube and watch it.
I'll be back with more on the other areas very very soon!