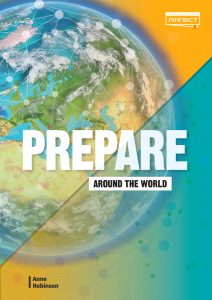 Proud author of Prepare for School Exams
It's always a proud moment when you see your work published. Today is one of those moments – actually, several moments because I've just 'seen' the covers of Prepare for School Grade 10.
Since 2019, I have been working with Linguist, Ukraine on several projects. Some are adaptations of Cambridge University Press publications. Others have been written specially for Ukraine.
This project adapted the original Prepare Student Books and Workbooks, and added new resources, including the Grammar Book and Prepare Around the World. I particularly enjoyed writing Prepare Around the World because it works on different cultures, looking at different aspects of them.
Writing on these projects has been easy because I've always received very clear guidelines, with everything being well thought-out and planned from the start.
I'd like to congratulate Cambridge English Ukraine and Linguist on continuing to support teachers and students and look forward to our next project!