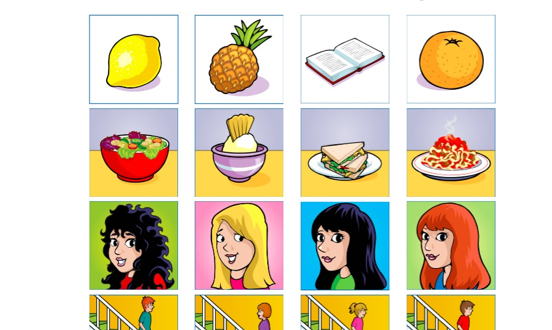 Cognitive Thinking with A1 Movers Speaking Part 3 (and beyond)!
Last Saturday, in Bilbao, my session was about Cognitive Thinking.  On one slide, I showed teacher an A1 Movers Speaking Part 3 task and asked them to suggest reasons why each of the four pictures in the set could be the different one!
Every year, candidates in the A1 Movers speaking tests come up with reasons for a picture being different which is different from the reason suggested by Cambridge!  This is great and as it should be!
Look at the 4 sets of 4 pictures below.
The 'official' difference for the example is:
The book is different.  A lemon, a pineapple and and orange are fruit.  You eat them.  You don't eat a book.  You read it.
But, we could say that another picture could be the different thing.
For example:  The lemon is different because I don't like lemons.
The pineapple is different because it's very heavy.
What about the second group of pictures – the food.
The salad is different because it doesn't contain flour.
The ice cream is different because you must keep it in the freezer.
The sandwich is different because you eat it with your hands.
The pasta is different because it's hot./The pasta is different because it has a sauce.
And the fourth row?
Picture 1 – We can't see the man's legs because he's wearing trousers.
Picture 2 – She's going up the stairs, not down.  or  She has both feet on a stair.  The others have one foot in the air.
Picture 3 – She has the longest hair.
Picture 4 – He's got the darkest hair.
Getting students to really think about the differences can cause a lot of discussion and will reinforce the fact that there is not only one right answer for this Part.