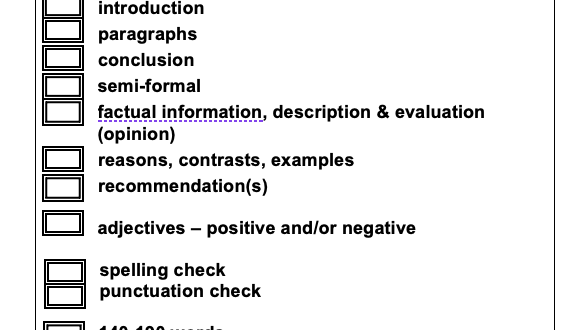 B2 First Review Analysis and Checklist
In today's post, I'm going to analyse the review task which could appear in Part 2 of the B2 First and B2 First for Schools writing paper.
As I said in my previous post, many students, including our teenage students, are writing and reading reviews these days, so it really does relate to real life situations.
The context
A review in the B2 First (& for Schools)Writing paper is usually written for an English language magazine or website.
The target reader
The people who will read the review will probably have similar interests.
The content
Students will be asked to describe an experience/product and express a personal opinion on something they have experienced or used (e.g. a film, holiday, website, etc.).
The review should probably also include a recommendation (to choose or buy something or go somewhere or to not select the thing or place).
Organisation
The review should have an introduction, two or three middle paragraphs and a conclusion. (4-5 paragraphs in total).
Language
Vocabulary related to the topic (e.g. film – story/plot, setting, actors, music, soundtrack, special effects, etc)
A range of grammatical forms – past and present tenses, modal verbs (e.g. should, must(n't)), conditionals, etc.
To help students check their review writing, I have created a checklist.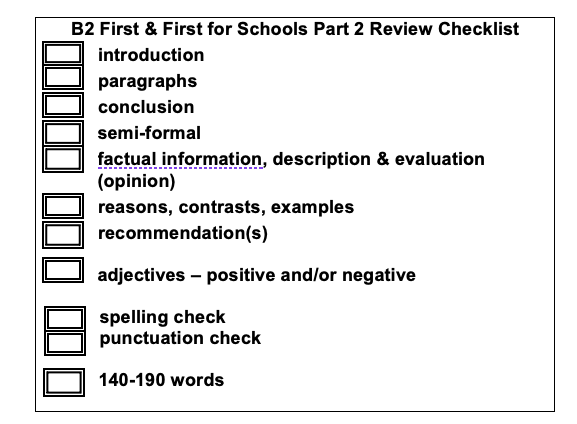 Check out my post on helping students to use B2 language in their reviews.