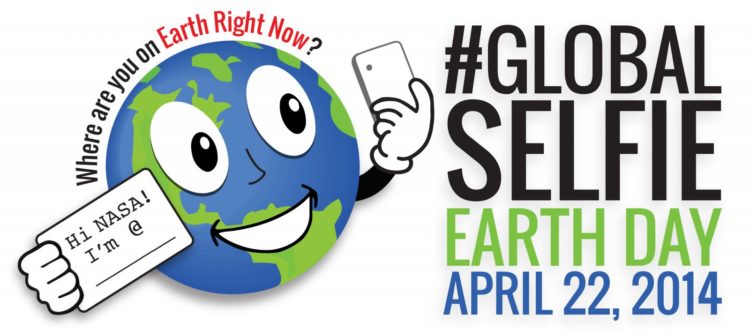 Showing you're here on Earth
Isn't it amazing how our lives are changing?  Who would have thought that on Earth Day on Tuesday, April 22nd, 2014, thousands of people, would take a selfie and post it online?
Did you?
NASA wanted to make a global selfie.  They asked people to take a photo of themselves, holding a printable sign or to mark their spot with rocks, drawing on the sand, or whatever.
Then, over 50,000 people uploaded their photo to facebook/flickr/instagram or twitter.
Then, a global selfie portrait was created – a mosaic image of Earth.
You can see it here:
http://www.gigapan.com/gigapans/155294
If you hover over the planets, you can zoom in and see the individual selfies.
And there's a great video with a selection of selfies from around the world.
I'm sure we could use this video in class for lots of different things.
Students could choose the place they'd most like to be in right now.  Or the photo that is most similar to where they're from.  They could compare the weather, the surroundings, choose one to describe and then the other students have to say which selfie it is from the description.
And then, they could take a selfie of themselves and complete the text!
---
Or, if your students are animal lovers, you could use this one:
---
This selfie is a long way on from the first reported selfie:
Selfie has only just made its way into the dictionary but, as this picture taken in 1839 shows, people have been doing them for a long time.
In fact, this has been hailed as the first ever selfie.
Amateur chemist and photography enthusiast Robert Cornelius, from Philadelphia, took the self-portrait in his family's silver-plating shop in the city.
There was no remote shutter release on the primitive camera – a Daguerreotype invented by Frenchman Louis Daguerre – so Robert had to scamper in front of the equipment after removing the cover on the lens.
He wrote on the back of the photo: "The first light picture ever taken. 1839."
Considering that he was making history, he doesn't look all that chuffed – maybe it was because he had to stand still for up to 15 minutes for the portrait. Or maybe it was because he had an inkling that some celebs would one day make the selfie such a self-indulgent yawnfest.
Robert's picture is kept in the Library of Congress  in Washington DC.
http://www.mirror.co.uk/news/weird-news/first-ever-selfie-amazing-pic-3218544#ixzz2zJuZSkSg