Fun writing and speaking online games for practising English
Games for practising writing and speaking English and having fun at the same time?  There are so many of these around on the web right now, and I thought I'd share a couple of them in this post.
ZType is a totally new discovery for me.  It's based on that very addictive game that I remember playing for hours as a teenager – Space Invaders (does it ring a bell or maybe I'm giving away my age!)  You have to type the words that fall from the sky before they hit the ground/you.  It's fun as it is, but what I really liked is the possibility of adding your own text that then falls from the sky.    You could use this to revise lexis and structures – copy and paste in a text that your students have been reading or the audioscript from a listening.
See the screenshot for the paragraph above when I uploaded it to play: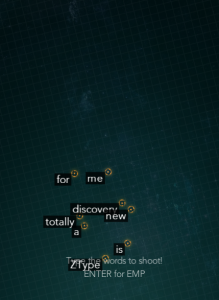 Will definitely be recommending it for writing and spelling practice!
The second website I'm recommending was passed on to me by a fellow Cambridge Engilsh Seminar Presenter (thanks Jane).
Cueprompter is what its name says – a cue prompter like they use on the TV.  You read the text that appears out loud – trying to sound as natural as possible, of course!  You can choose the speed for the cues – even the slowest speed represents a real challenge, believe me!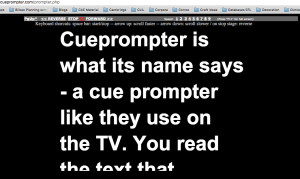 All right, I know that most of our students are not going to be newsreaders, but again, the fact that you can copy and paste your own text into the cue creator means that you can do lots of drilling of pronunciation and your students will love it!
Try these games out on yourself and on your students – I'm sure you'll have fun and practise English too!